1287 Words
Last night my wife and I were watching Indiana Jones And The Raiders Of The Lost Ark again. While we watched Dr. Jones figure his way through countless booby traps I thought about the question I often get asked by absolutely no one ever; "Hey Jeremy, if you could have a super hero as a BFF who would it be?"
Cool WHip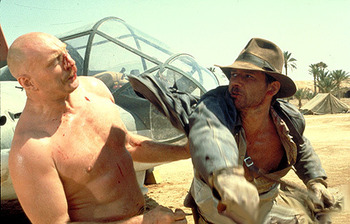 I thought deeply about hanging out with Indiana Jones as his BFF. I decided I would hate it to no end! You see, me and my besty would usually be chilling out with a bucket of cold beers and some delicious food someplace where we're not being chased down by angry tribesmen or bloodthirsty Nazis. Sure it would be nice to go out and find a treasure every so often, shiny shiny treasure. Cut some ribbons with over sized scissors at various museums we opened up with our bounty, but come on, the constant running, shooting, and swinging from whips would get old I think. Sorry, I'm out. I'll just follow you on Twitter instead @TheRealIndianaJones.
Mr. Perfect
I think most people might not take the question seriously and therefore, I think they'd immediately blurt out "Superman! I'd be best friends with Superman! He can fly, he has X-Ray vision, he's a bad ass! Yes, definitely Superman!" All of those things are quite true, but my best pal and I would have to have some things in common. If I put my fist in the air and jump up towards the rooftops I just fall right back down. If I try to see how many sodas are in the vending machine, I gotta get a mess of quarters and buy them all. Also, my cape is never that "flowy". Even his alter ego Clark Kent is way too much of a goodie two shoes for me to ever want to hang out with. Nope. Sorry. I'll just read your editorials Clark.
Iron Guy
Iron Man is more my speed. We all know how much Tony Stark likes to party when he's not wearing a nuclear night light on his chest. He would never ask me to go fight the bad guys with him, he'd probably just ask me to hold his drink or hold his hair while he pukes. I'm totally good with that. He's got a wonderful house at which we would all have many fun times. He owns a weapons manufacturing plant, so we'd always have fun at the shooting range. Yes. I think we would get matching tattoos of an empty scotch glass with "just one more" under it on our chests.
Bad Hair Day
Right off the bat, no. I would not want to hang out with Dr. Bruce Banner. Come on, the dude plays with gamma rays for god sake. I'm a bit of a jokester and I tend to give my BFF's a little crap here and there, it's a good give and take deal. It's bros being bros. I could imagine me and Bruce just hanging out one day eating cheese and playing chess and it would go something like this:
Jeremy: "Check mate! Dude, have you ever even played chess? Maybe those gamma rays are messing with your critical thinking gland."
Bruce: "Jeremy, when you speak to me like that it makes me angry. You wouldn't..."
Jeremy :"..like me when I'm angry. I know. Jesus, I know. You need to learn how to roll with the punches... oh shit"
Bruce: "AAAAAAAaaaaaaaarrrrrrrggggghhhhhh"
Jeremy: "Bruce, I was just kidding man. Come on, have some nice smoked gouda. I'll reset the board and we'll play again, I won't tease you again. I promise"
Hulk: "HULK SMASH!"
Jeremy: "Oh shit"
Hulk: "HULK SMASH!!!!"
Jeremy: "I knew this was a bad idea"
So you see how it would just go south like all the time? Nope. I like to be the only one wearing a ripped shirt and jean shorts in my crew. Adios muchacho. 
Golden Girl
All I can say is the sexual tension would be insurmountable. There is no way we could hang out. She could never keep her hands off me. Sorry.
Blunder Twins
Threes a crowd man. You know when your best buddy all of a sudden gets a new girlfriend and things just... change? Well, imagine that from the get go. The inside jokes would be too much to handle too, I think. They'd be all "Hey super twin, remember that time we took form of an ICE BURRITO!" But they'd both say "ICE BURRITO" at the same time and touch rings then just laugh and look at you like you were the weird one for not being in on that joke. Hey buttholes, if I don't have a ring or a twin how can I be expected to take form of anything? Good day sir!
Zoinks!
Shaggy. You got to love a stoner hippy guy named Shaggy. His BFF is a talking dog and they live in a Mystery Machine! Not a creepy van, a MYSTERY FUCKING MACHINE! YES! DOUBLE YES! Please let me be your best human friend Shaggy! I'll bring the munchies dude, just let me hang out with you. I imagine that Shaggy would be the most non judgemental guy ever. Just look at him, how could be be above anything or anyone? Hey Shagster (that's what I'd call him, that and Mr. Shagnito), how about today we sit in the bean bag chairs and watch Football all day long? You can even invite Scooby, I installed the talking doggie door. He'd be all "Like yeah man, that sounds like a great idea". God I love Mr. Shagnito.
Water-boy
I thought about this one a bit more than the others. Here's my conclusion. No. I think Aquaman would be way to needy as a BFF. He'd always need to prove his worth to me and everyone else around. That and he'd always want to go to the damn aquarium, which would get old fast. Here's how I think our last day of being friends might play out:
Aquaman: "Hey Jeremy, I'll pick you up in 15 to go to the aquarium. We'll get there in time to see them feed the otters!"
Jeremy: "Oh hey Aquaman. Um, how about we go to the zoo instead? I'd love to see the elephants and the giraffes today. We've gone to the aquarium every weekend for the last 2 years."
Aquaman: "HAHA, you're too funny man. You know I don't really get along with those guys at the zoo. The hippos don't even want to be my friends and they always just walk out of the water when I dive in there."
Jeremy: "Dude, I'm sorry. I can't do it anymore."
Aquaman: "What do you mean? Is something wrong?"
Jeremy: "Yes, alright, I want to do other things on the weekends. I've seen all there is to see at the aquarium. And the food there sucks!"
Aquaman: "What about that time I saved that lady?"
Jeremy: "What!? You got her bracelet back for her. That's hardly saving."
Aquaman: "Well, come on, she was pretty happy about it."
Jeremy: "You didn't even get it! You forced that poor starfish to get it for you! There was an octopus in there that wasn't doing anything, he was just in the rocks right by the damn bracelet. He's got 8 fucking arms for crying out loud! It took that starfish over two hours to get the bracelet. The lady just felt sorry for you, that's why she didn't leave."
Aquaman: "Jeremy, when you speak to me that way it makes me angry. You wouldn't like me when I'm angry."
Jeremy: "Shut the hell up man, you aint no Bruce Banner. I'm going to hang out with Ironman. I need a drink."